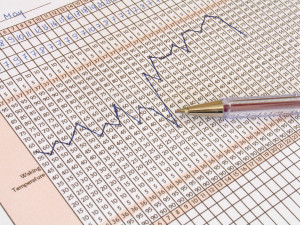 The basal body temperature (BBT) chart records the temperature of the woman's body upon waking. It is called "basal" because it is measured at a time when the body is rested and the body's metabolism and temperature is at its baseline. Recording the body's temperature each morning, and watching the secretions of the cervix, and then charting these observations will, over time, build an individual profile, which is extremely informative.
To start, all that is needed is a thermometer, a chart and a good night's sleep (at least 4-5 unbroken hours). For those women who are having a regular menstrual cycle, Day 1 of the cycle starts with the first day of their period. It is ideal to chart for three cycles so that a pattern can be firmly established. This pattern provides useful information to the Acupuncturist and guides us in making point selections for acupuncture treatments as well as herbal recommendations. Patients should be prepared to take herbs, prescribed by their Acupuncturist, along with their acupuncture treatments. Over time, patients will start to see the effects of treatment: the shape of the BBT chart will change as well as their signs and symptoms.
It is important that the temperature be taken at roughly the same time each morning because later waking raises the body's temperature. Thus, a very erratic looking chart may simply be due to an erratic sleep-wake cycle. A reliable digital thermometer is recommended. Keep it on the bedside table, along with the chart and a pen. Upon waking, place the thermometer in the mouth for 3-5 minutes. After the temperature is registered on the thermometer, remove the thermometer from the mouth and note the value on the chart along with the corresponding day/date. In addition, the woman should also note the quality of the cervix mucus on the BBT Chart, because vaginal secretions change according to the phases of the menstrual cycle.