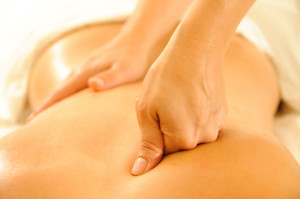 According to the National Institute of Health, about 80% of adults aged 30-60 report suffering from low back pain.  Men and women report low back pain in equal numbers.  A research study published in Scientific World Journal in February 2014 reported massage therapy to be of great help to people with low back pain.
The spine, muscles, ligaments and/or tendons can all be involved in the pain matrix.  Low back pain can range in severity from mild discomfort to intense debilitating pain.
Younger people often experience short-term acute pain as a result of muscle or ligament strain.  This can be caused by a sudden movement or lifting heavy weight.  Muscle or ligament strain occurs when the tissues are stretched beyond their usual range or develop microscopic tears.  Because there is soft-tissue damage there can be inflammation, which in turn, can lead to muscle spasms.  Massage therapy is really great for alleviating muscle spasms and increasing circulation, bringing in fresh blood/nutrients/oxygen to heal damaged tissues.
Older adults are more prone to degenerative conditions, which can lead to chronic low back pain.  By definition, chronic pain lasts longer than 12 weeks.
A common feature of low back pain is sciatica.  Sciatica is an intermittent or constant pain, numbness or tingling that occurs usually on one side of the body.  There is discomfort in the buttock, thigh, calf and/or foot.  One of the most common causes of sciatica and low back pain is a herniated disc.  This occurs when the center of the disc (a jelly-like substance) pushes against the fibrous wall of the disc, forcing the outer wall of the disc to protrude out and place pressure on a spinal nerve.  The majority of disc herniations occur between the lumbar vertebrae L4-L5 or L5-S1.
Similar to the problem of herniated discs, Degenerative Disc Disease, involves multiple discs and tends to strike people around ages 30-50 or older.  Over time, normal impact of the bony vertebrae on the discs slowly compresses them.  Proteins leaking from the compressed discs irritate the adjacent nerve roots causing flare-ups or lower back pain that can last for a few days before subsiding.
Lumbar spinal stenosis is another cause of low back pain in older adults.  People with this condition may also suffer from tingling, numbness or weakness in the legs and in severe cases, have difficulty controlling the bladder or bowels.  The pain is due to a narrowing of the space around the nerves due to an overgrowth of bone, usually because of osteoarthritis.  The reduction of space in the spinal canal puts pressure no the nerve roots causing weakness and pain.
Spondylosis refers to a stress fracture in the vertebrae.  The fracture occurs in a very specific area on the vertebrae, called the pars interarticularis.  Once this fracture happens, the position of the affected vertebrae can change.  If it slips forward, the vertebra and the adjacent disc may pinch the nerves in the spinal canal.  This forward slippage is known as Spondylolisthesis.
If the statistics show that most people will suffer from low back pain at some point in their lives, what role does massage therapy play?  Recent research shows that most people achieve a reduction in their pain when they get massage. The American Pain Society lists massage as a valid therapy for reducing pain.
Massage therapists have very specific training to treat the musculoskeletal system.  They can take more time with their clients to really address problems with low back pain.  Besides treating muscle spasms and increasing blood flow to the affected area, the skilled massage therapist can even incorporate a variety of assisted stretching techniques, which will enhance pain relief.  The massage therapist's goal is to help their client feel better – to help them reduce their pain and return to normal levels of activity.